It is often hard to stay awake during a long work day. We often hit a slump and fight to keep our eyes open. Here are a few effective ways to keep your blood flowing and your energy up through the long hours at work.
Take a Walk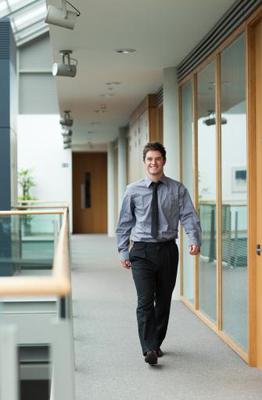 Wake up your mind and body with a walk. It will get your heart rate up. Your heart rate will push your blood faster to the rest of your body, invigorating the mind. Not only that, but it will help you keep your body active. Mankind wasn't meant to sit all day. We were meant to be on the move. So get up and go for a 2-5 minute walk when you feel drowsiness setting in.
Open a Window to Let the Cool Air In
It is so easy to get drowsy simply because you are in warm, stagnant air. This could happen because you're used to warming up under a blanket in a stagnant environment every night before you go to bed. It could also be a natural reaction to warmth. Rather than continue to produce a lot of body heat, the body will shut down certain processes to keep from having to cool down. That could make you drowsy.
Whatever the reason, refresh yourself and the environment with a cool breeze. Breathe in the fresh air and feel alive again.
Take a Power Nap
Sometimes it can be immensely beneficial to just take a nap. Go off the clock or take a break and take a power nap (15-20 minutes). You won't likely want to wake up afterwards, and it may feel too short, but you'll wake up for another 4 hours easily with a nap like this. Once you're fully awake again, you'll feel refreshed.
Plan a nap into your schedule if you have the time. You'll be much more productive throughout the rest of the day this way.
Take these tips to heart and see how each helps you get through your drowsy hour.
Photo credit: http://www.mensfitness.com
There are no comments yet.