Being active is the important ingredient in losing weight and getting in shape. Living an active life will not only help you shed excess pounds, but it also happens to be an essential aspect in living a healthy, long life. It's when mankind stops being active that they open the door wide to heart and other fatal diseases.
So what exactly does it mean to be active? Does working out at the gym five days out of the week count?
There's a subtle, but important difference between being active and working out. There are a lot of people that consider themselves active but aren't, they just simply work out. And although it's certainly a good thing to hit the gym that often, it's not enough to be considered active.
Works Out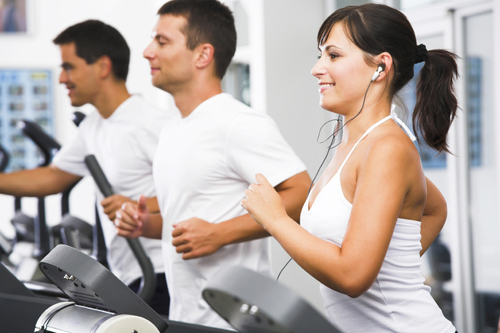 5:30 a.m. Wakes up and puts on some athletic gear.
5:40 a.m. Arrives at Gym and works out for half an hour to forty-five minutes.
6:45 a.m. Gets home, showers, eats, and gets ready for work.
7:30 a.m. Hops in car and heads to work.
8:00 a.m. Sits at a desk working until 5 with only a few breaks to get up, grab some food, and return to the desk.
5:00 p.m. Gets in car and works his way home.
5:45 p.m. Arrives at home and sits on the couch with very little movement until bedtime.
9:30 p.m. Hits the sack without doing much else in exercise.
Lives Active
5:30 a.m. Follows the same mourning routine as the workout guru.
7:15 a.m. Hops on a bike to head to work.
8:00 a.m. Works an 8 hour day job, but gets up every 45 minutes or so to take a quick jaunt around the office—returning blood to his legs and getting his heart pumping again.
12:00 p.m. Walks around the block on his lunch break.
5:00 p.m. Returns home on his bike.
6:00 p.m. Arrives home, changes, and heads outside to run around with the kids.
7:00 p.m. Eats dinner
7:30 p.m. Heads to the racquetball court to play with a friend.
8:30 p.m. Comes home and allows himself to rest.
9:30 p.m. Sets his alarm to start all over again as he heads to bed.
The difference is that the active lifestyle is looking for opportunities to move and to exercise throughout the day. He is not content with sitting on the sidelines and letting life pass him by. He has energy for every activity and lives quite a full life. Because of his habits, he is able to continue being active later in life.
Although the workout guru is doing well with his morning routine, he will still likely find he has a gut at the end of the day, or lacks energy at the end. If he were to stay as active as possible throughout the day, he'd find a vast improvement in his mood, weight, and energy level.
There are no comments yet.