Breakfast is the most important meal of the day. It's what starts the day off right. And it does so in so many ways.
Increased Metabolism
A faster metabolism keeps off fat better. The metabolism in adults slows down in large part because there's nothing for it to do.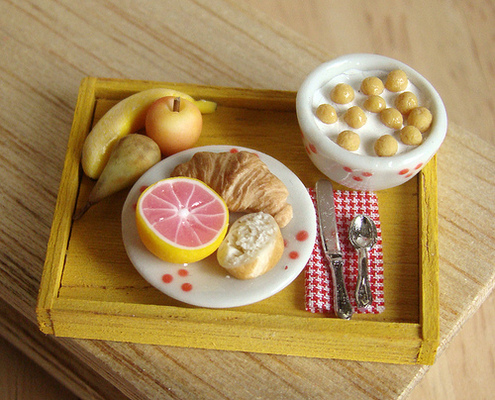 The most common example of this is when children become adults and stop moving around so much. The metabolism is required to convert food into energy. When you're on the move a lot, you need a lot of energy, which requires the metabolism to pick up its pace. When you decide that walking to and from the car is the most energy you want to spend in a single day, your metabolism won't be needed as much. It adjusts by slowing down.
The same problem happens when you don't provide your stomach with food every few hours. If you eat dinner at 8 p.m. and don't eat anything else until noon the next day, you're giving your stomach 16 hours to digest everything you gave it the night before. Your stomach should be empty and ready for more by morning. Denying it something to break down will cause it to slow down. Rather than wear down the lining of your stomach with stomach acid, it holds off until more food comes. It learns to metabolize calories slower so it can make up for 16 hour fast that happens every day.
Combined with good exercise, eating breakfast can increase the speed of your metabolism, which can help you stop weight gain, and even shed excess pounds.
Sharper Focus
Providing your mind with energy sharpens its focus throughout the day. Your body needs a fresh supply of nutrients to send to the brain after 8 hours of nothing. Feed it properly and enjoy a clearer, focused morning.
Increased Working Endurance
That extra energy not only helps you to focus better, but it helps you to do it for longer. Hunger pains are kept at bay. Lunchtime will creep up on you without you realizing how much time has passed. There's nothing quite like looking at the clock only to discover that it's time to take a break.
From a physical and mental standpoint, eating breakfast is a crucial part of your day. If you're not in the habit now, return to that habit to regain the benefits you've been missing out on all this time. If you eat breakfast, look to improve what you eat. Make sure you're getting a balanced, energy rich breakfast that will stick with you until lunch.
photo credit: PetitPlat - Stephanie Kilgast via photopin cc
There are no comments yet.