When you are out there on the road, especially in high traffic area, its easy to see how many dangers there are. Here are some tips on how to stay safe while riding your bike.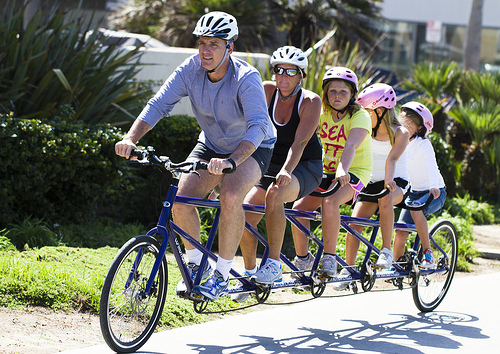 Awareness
This one principle is lacking in many drivers so in the areas that they are lacking bikers need to make up. This may seem kind of daunting but increasing your awareness can become a habit as you cruise down the street. It requires your eyes and ears.
You should constantly checking your blinds spots, checking behind you, and in front of you for anything that could be a potential danger. Once you see a danger whether it is in front or to the side it is important to either signal (if it is a car) or yell out a warning that you are coming if it is a person just walking unaware on the sidewalk.
Ears
Ears may not seem as important but they are your greatest friend as they can pick up things that your eyes cant. Many times you are going so fast that it takes the use of all senses to really keep yourself safe. Many bikers can be seen with ear phones in but this is not safe at all. Keep your ears ready to pick up any car, dog, or unsuspecting pedestrians.
Attire
It goes without saying that a helmet is a good idea, and yet many cyclists are still riding without one. Another thing to think about as you ride is the type of clothing that you are wearing. Loose clothing can get caught on the pedals, gears, or anywhere else on the bike and cause serious problems. There is a reason we see professionals wearing tight spandex. Another issue that can arise is any heavy thing like a backpack or things that can throw off your balance.
So the next time you head out keep your own safety in mind with these tips.
photo credit: San Diego Shooter via photopin cc
There are no comments yet.