Earth Day: Preparing Your Yard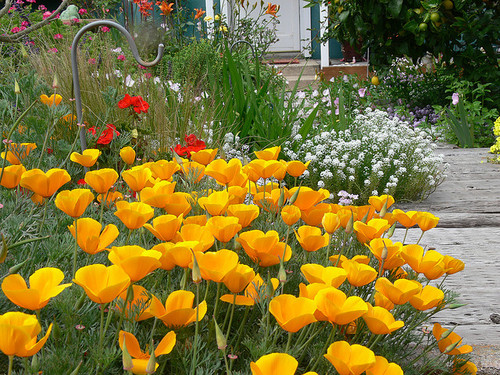 Earth day is mother's day for our planet. Every April 22nd, events are held worldwide to remember the great things that our earth provides us every day: fresh air, food, water, shelter, a place to live. She has provided a sanctuary that we can call home. We honor her every year on April 22nd by remembering all that she has given.
Maybe there's more that mankind can give her this year than just a raised glass in memory and gratitude. Maybe we can honor her more by tending to our yards: becoming a true steward of the gifts she's given.
Plant a Tree, Save a Life
If each person planted a single tree, for example, the world would have 6 billion more trees to help clean the air, stabilize the soil, and prevent erosion. Trees turn our carbon dioxide back into oxygen. By simply planting trees, we would all take a step forward to improving air quality.
That's not all we could do though. By cultivating and preparing an entire yard to sustain life of all kinds, we provide homes for certain animals and create sanctuaries for natural vegetation. The following are a few ideas to help you prepare your yard for Earth day and the days to come.
The Lawn
Aerate your grass. This provides fresh air, water, and nutrients to penetrate down into the root system better. You should only need to do this about once every 1 to 3 years.
Rake off excessive thatch from decaying plants. Rake it off and throw it away to help water, air, and sunlight penetrate to your grass effectively.
Long grass is also a big deterrent for moisture and nutrients. Keep your grass trimmed and groomed.
Fertilize to encourage growth. Follow normal fertilizing procedures to ensure you don't overdo it.
The Vegetation
Prune, water, and properly care for your other plants in the yard, especially when growing fruit or vegetables. Find out the proper care for each plant in your yard and strictly heed suggestions for keeping them alive and looking good.
Bird Feeders
Everyone likes attracting a few birds to their back yard. Upkeep a bird house and keep stocked the bird feeder. They'll come in the droves when you provide the right resources for them.
A great way for us to give back to Mother Nature is to cultivate and care for her creatures and vegetation. Plant a tree. Take care of her grass and vegetation. Provide a home for birds. All of these tips can be enacted quickly, but should be observed over the long-term. To say thanks to Mother Nature, prepare it for April 22nd and then upkeep it for the days, weeks, and months to follow. Mom's like an everlasting change, not just a day of it.
There are no comments yet.