It's the end of January, how's your New Year's resolution coming to "exercise?" Thinking about it 20 days ago was a piece of cake. There was no pressure then. You were likely taking a vacation and the whole world was open to you as you thought through your New Year's resolutions. Just a few weeks into the New Year can prove quite the disappointment as you feel your excitement ebbing away.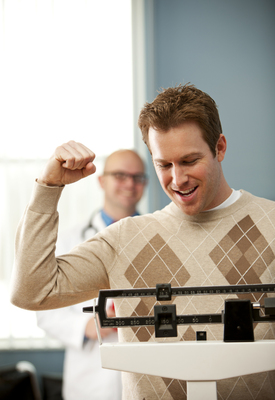 Well we're here to get you excited again. Although these goals may seem harder today than they did last month, that doesn't mean they're not attainable. You just need to 1) build a habit, and 2) remember what you're working for as motivation.
Build the habit
First, you need to build the habit so it's not as intimidating anymore. Start slow and go consistently. If you know you could bench 250 in high school but haven't lifted weights in over 15 years since then, it's probably best that you start with just the bar again and work yourself up. If you're getting back into running, don't run as far or for as long as you used to. You've given your body a lot of time to forget how to work out. Going hard from the gate could hurt and discourage you. Start slow and don't overwork yourself just yet. That part can come once you get into the habit.
Spend the first couple of weeks just going to the gym in the time frame you want to be doing it by the end of the year. If you want to be exercising every other day, then make sure you set aside time in your schedule (every other day) to make it happen. Even if you can only exercise for 5-10 minutes, make it happen, and make it happen for 30 days straight.
There's one more thing you have to do. You cannot procrastinate or skip a day. You have to be 100% on this one because procrastination will only demotivate you. That being said, if you do miss a day, then make up for it as soon as you can. Get up earlier and do it the next morning to get back on track. If you manage this for 30 days, you've instilled in yourself a habit. That habit will be easier to keep up throughout the year.
Remember your motivation
Second, as you go throughout the year, you may stop caring about your goal. During this time, remember your reasons for doing it. If you're doing it to get healthy again, and then remember what it was that motivated. If it was a fear of diabetes, then keep that as a motivation. If it was a desire to improve the image looking back at you in the mirror, then remember the feeling you had while looking in the mirror. Remember the feeling, and then remake the decision to keep going with it. You've made it more than a month by this point, and who can honestly say that? Few people. Why not show the world how long you can last?
Keep up your exercising this year! 2013 will be the year you do it right!